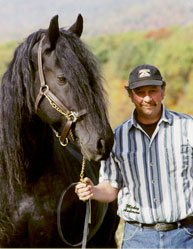 Hello and Welcome!
Don't know how you got here, but we're glad you could visit. This is the website for Jokar's Hilltop Farm, the "Totally Friesian" exhibition team and the homepage of Thor, our FPZV approved Friesian stallion. My name is Joe Myers and I'll be your tour guide.
Jokar's Hilltop Farm began as a dream of two city kids, with a new family to raise and a desire to make horses a part of that life. My wife Karen and I chose the Allegeheny mountains in 1983 to raise our family, because we liked the people here. The work ethic was still alive, the family farm meant something and the views were fantastic. Simple enough, huh?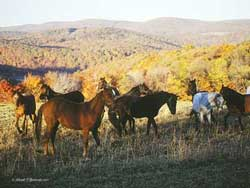 We started out with a bare piece of acreage and two Appaloosa horses. Forgot to take into account the need for fences and barns, but found out pretty quick. Tying your horse out in the front yard sure was a way to get the neighbors curious. Those two geldings taught us just how durable the modern equine is, and how they are born, and then spend the rest of their lives trying to kill themselves in the most expensive way possible.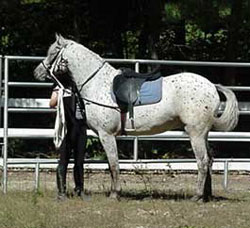 Didn't learn, just moved up to more expensive horses. We raised Appaloosas for almost 10 years, did quite well at it actually, but my dream was to have a Friesian. Then in 1993 Thor came into our lives. Over the years we have added a few horse barns and hay buildings, etc., you know the drill, seems every time we added a stall my wife filled it with a horse. Only took me 10 years to figure that out and quit building stalls.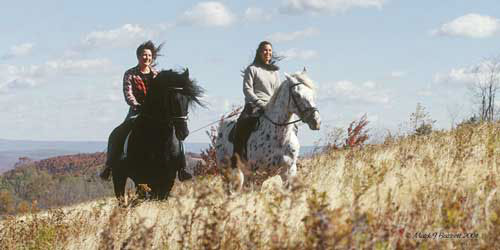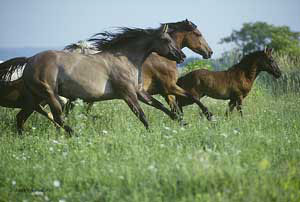 We keep about 30 horses here year round, but the population swells to almost 60 at times during the breeding season. Our facility settled at three barns, a mare barn (15 stalls), a baby barn (11 stalls for weaning) and our arena barn, complete with 70 x 144 indoor arena, 12 stalls, guest apartment, two bedrooms, office and lounge, two tack rooms, double wash rack, feed rooms, harness room, etc. You get the picture, MY barn.
We are a complete equine reproduction facility, offering a stallion station, collection, evaluation and shipping of chilled semen. We also offer cryo preservation of semen, harvest, implant or cryo storage of embryos, artificial insemination, veterinary services including palpations and ultrasounds. Our repro vet is one of the best in the industry, and our conception rates are over 90% for both on farm AI breedings and shipped semen.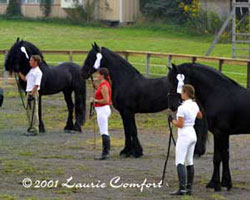 We've gained a reputation for being very open and concientious with our clients, working with them to complete the mission of successfully breeding their mare. We will go the extra distance to see that every avenue is examined in breeding your mare. Our live foal guarantee is one of the best in the industry, and we have many wonderful clients, maybe someday you will be one also, we hope so, creating foals that are destined to be someones equine dance partner in life is why we do what we do.